Meet the Matatalab Coding Set Home Edition- A Hands-On Coding Robot for Home
From $208.49
Matatalab Coding Set Home Edition is a new hands-on coding robot for STEAM education, without the need for screen and literacy. Kids use their imagination to create infinite possibilities using coding blocks, by controlling a robot car through coding algorithms. They learn fundamental coding skills and develop necessary cognitive abilities through educational coding games from a young age!
Develops Cognitive Abiltities, Imagination and Coding Skills Through Hands-On Play!
Help kids learn to code by playing with a screenless, words free educational coding game. Kids will program a robot, creating music, and art!
CODE TO PLAY MUSIC
Kids can compose their favourite music, or even create their own!​
CODE TO PLAY ART
Kids can draw beautiful graphics and pictures through programming, and towards the more advanced stages of coding, their mathematical knowledge of geometry also improves.​
Intuitive symbol design. Teach coding concepts with directional language!
Let's Get Started!
With the Matatalab Coding Set Home Edition, learning to code becomes as easy as playing with building blocks!
For Educators
You can find the Matatalab Coding Set EDU version here, and use in the Classroom
Our lessons are split into two streams: Learn to Code, where students receive a comprehensive introduction to Coding with Matatalab, and Code to Learn in which Matatalab is used to create a board game, decorate a character, and program Matatabot to move across the board. Both streams provide everything you need to bring coding to your classroom.
During this training session, educators will be exposed to Matatalab hardware, the benefits of use in the classroom, the lesson development process, and integrating curriculum. You can bring excitement and wonder to your schools through robotics and coding! Teaching programming lets you turn your creative ideas into reality. In this hands-on workshop, you will not only have the opportunity to play and explore, but you will be able to walk out ready to code with your students.
3 x Coding sets
3 x Pro sets
1 Educator access to the Everything Curriculum Bundle (Lifetime Access) – Matatalab Coding
Why Matatalab Coding Set Home Edition?
Hands-on and Screenless: Use colorful blocks to represent coding commands and no screens are needed, kids construct their understanding with their hands directly.

No experience needed for the kids or parents.

Game-Based: Supporting two double-sided that helps kids plan their adventures, along with three storybooks full of progressive activities and challenges

Easy-to-use coding blocks designed for kids to splash their creativity and turn their coding command into fun tangible learning experiences.

Excellent activities created by STEAM education experts to guide kids to develop an interest in coding and stimulate their creativity by starting their first coding project
Matatalab's Accessories
Specs
| | |
| --- | --- |
| Product Dimensions | 14.09 x 8.74 x 4.37 inches |
| Item Weight | 4.4 pounds |
| Item Model Number | 9000-000130-00 |
| Recommended Age | 4-9 years |
| Batteries | 2 Lithium Polymer batteries required |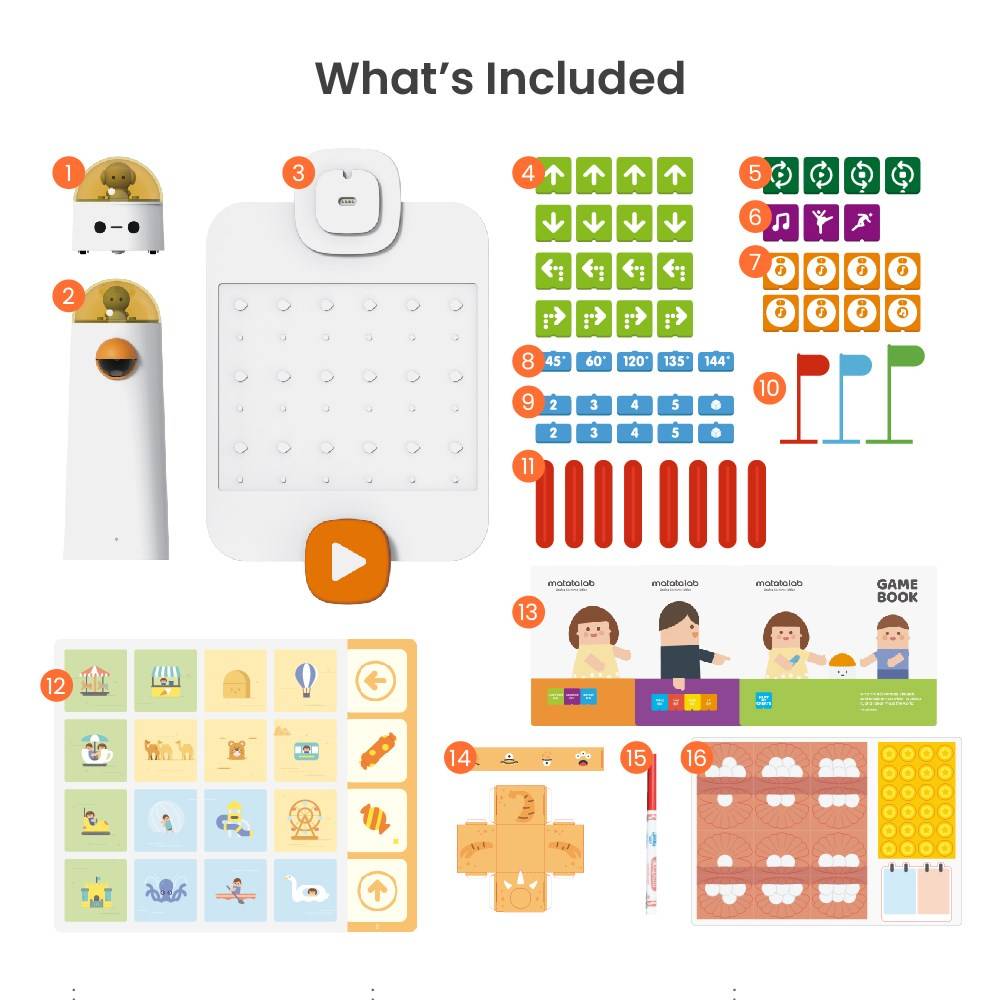 You can also play virtually with the Matatalab Simulator!
Matatalab Sets Product Comparison
| | | | |
| --- | --- | --- | --- |
| | Matatalab Pro Set | Matatalab Coding Set | Matatalab Lite |
| Recommended Age | Age 4-9 | Age 4-6 | Age 3-5 |
| MatataBot | √ | √ | √ |
| Command tower | √ | √ | x |
| Matatalab Controller | x | x | √ |
| Music Add-on | √ | x | x |
| Artist Add-on | √ | x | x |
| Bluetooth Pairing | √ | √ | √ |
| Warm-up Cards | 6 | x | x |
| Coding Blocks | 99 | 37 | x |
| How to Play | By combining multiple tangible Coding Blocks, kids control a robot car through coding algorithms to complete a challenge. Music and Artist coding block expansions are included to unlock more possibilities. | By combining multiple tangible Coding Blocks, kids control a robot car through coding algorithms to complete a challenge. | With a wireless three-mode Controller to control a responsive robot car to experience the fun of remote control and basic programming. |